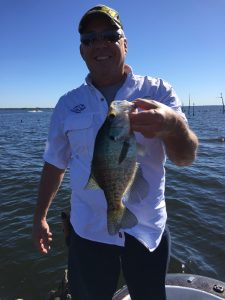 Alter all the rain last week the lake is now 1.4 feet below normal and that is great for going into the winter time frame on the lake. The grass (hydrilla) that has been growing is now under water and will continue to grow into the winter and should be in great shape for the spring. That will help the crappie fishing on Fork for the upcoming spawn next spring.
The crappie fishing has been good the last few weeks and is just getting better as the lake cools off. Water temperature is in the low 70's. The crappie bite has been the best in brush piles using minnows or jigs in blue ice or green hornet. Best depth has been 20-26 feet, but there needs to be brush piles or they are hard to find. Now is the time to bring the kids over on the weekend and have them catch a mess of fish. The bite is aggressive and the crappie fishing is good. As for the bass, the bite has also been good. Have been catching bass shallow on spooks early, than throwing a chrome rattletrap. Than later in the day, a texas rigged baby brush hog in watermelon red is working. So if you would like to try your hand in crappie fishing or bass fishing, give me a call for open dates. 940-902-3855 or text me for open dates. You can also email me doug@lakeforktrophybass.com for trip information.
I am now booking spring 2016 fishing trips so its time to get your date reserved. Spring dates go fast so now it the time to set up your bass fishing or crappie fishing trip. I have been guiding on Lake Fork Fishing for 15 years and will furnish everything for your bass or crappie fishing trip. Next year I will be able to take bigger groups out for crappie fishing or sand bass fishing in a bigger boat. So lets get that trip set up for next year!!
Save